MUELLER FRERE Art Glass French 1920's Huge Frosted-Mottled Heavy Glass Vase Rare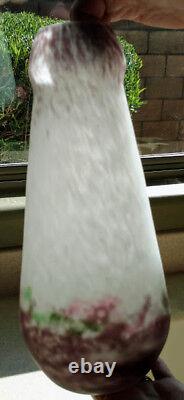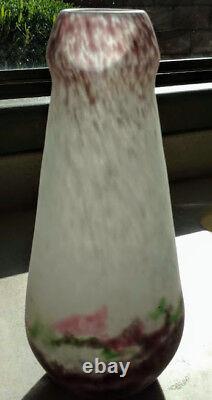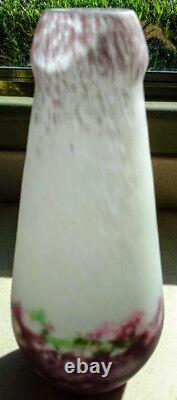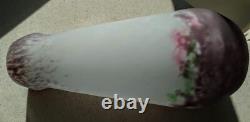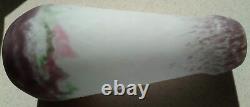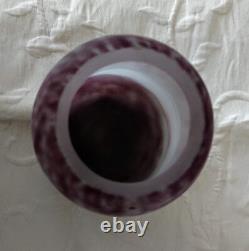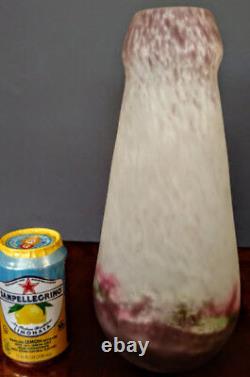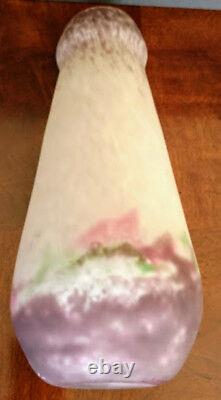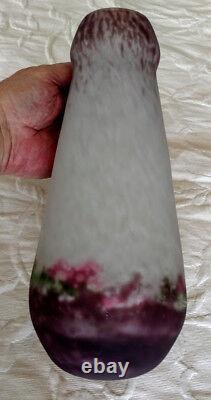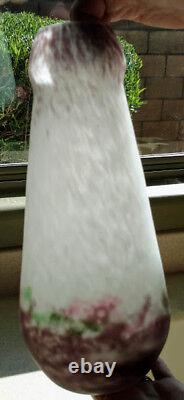 Sons of an innkeeper of Kalhausen the Muller brothers, who are not yet 17 years old, fleeing the area occupied by the German since 1870 for the city of Nancy. It states to the authorities that he is a glass engraver. Henri joined Gallé at age 28, Désiré does the same at 17 years old as an. Henri and Désiré leave Gallé around 1895 to create their own workshop in Luneville. Jean starts at Galle's at 24 as an engraver on crystal.
In 1896, the entire Muller family (father, mother and children) live in Nancy. Camille works at Daum's, Baccarat and then finally he goes to Sèvres. Eugene, Victor and Pierre join the Galle's workshop.
Ne, the three brothers develop their business. They produce vases, cups, ewers, sculptures... The techniques used are cameo engraving in all its forms, inlaid glass, enamelling, overlays.. In 1900, Henri leases space inside the Croismare glassworks and transfers there some of the workshops of the Rue Sainte-Anne in Luneville. It was at this time that appears the signature Muller Croismare près Nancy.
"PATE DE VERRE" Tallest of. Series Art Glass Vase is: 12.25 inches tall 5-inch diameter at bottom and gracefully shaped to a lip! A large, tall, heavy gourd shape cased vase, with a white frosted upper section over a spreading band of mottled purple's, green and pinks.
Condition: stand wear to the under-base; light surface wear; no damage found, other than usual scuffed bottom from use. This is a signed & rare MULLER FRERE piece, very early in the frosted, mottled, cloudy style and very colorful & stunning. Bought from Arthur Harris of Harris Antiques Private Collection 4-5 years ago in the French Quarter. A very fine man with lots of beautiful & unique stuff.

---