Antique Mont Joye French Art Noveau Enamel Poppies Flower Green Vase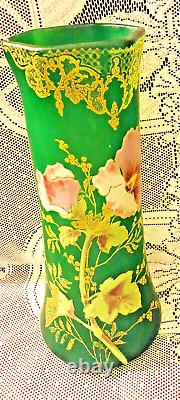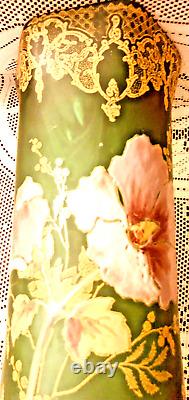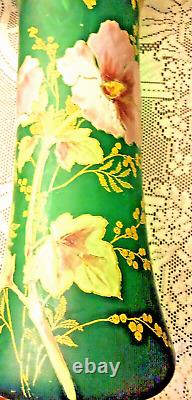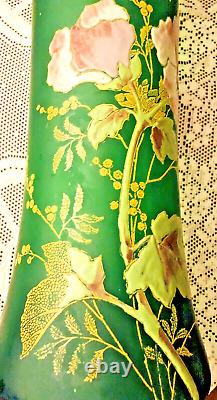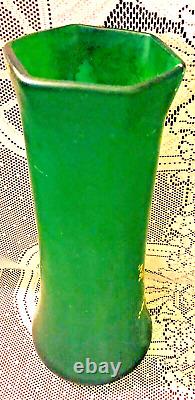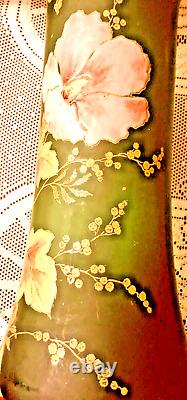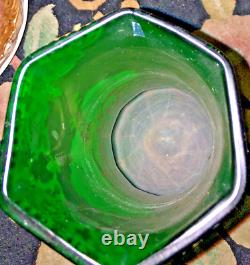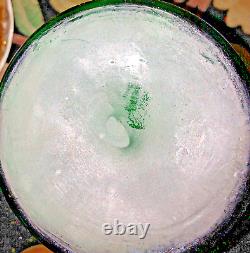 THIS IS A GORGEOUS ANTIQUE ART NOUVEAU FLORAL VASE WITH ENAMEL 2 POPPIES FLOWERS BY MONT JOYE LEGRAS. THE VASE IS A BEAUTIFUL GREEN ART GLASS. THE FLOWERS ARE PINK WITH LIGHTER PETALS AND GREEN LEAVES. ON TOP IS A GILDED PAINTED LACE.
THE DECORATIONS ARE ON ONE SIDE, THE BACK IS NOT DECORATED, JUST GREEN ART GLASS. THE VASE IS 11" TALL, THE BASE IS ROUND AND THE DIAMETER IS 4 1/2" ACROSS THE TOP IS HEXAGONAL.
CONDITION: I DO NOT SEE ANY PROBLEMS. THE VASE IS NOT SIGNED BUT THE DECORATIONS WITH ENAMELING IS A TYPICAL BY MONT JOYE PART OF A LEGRAS COMPANY IN FRANCE.

---